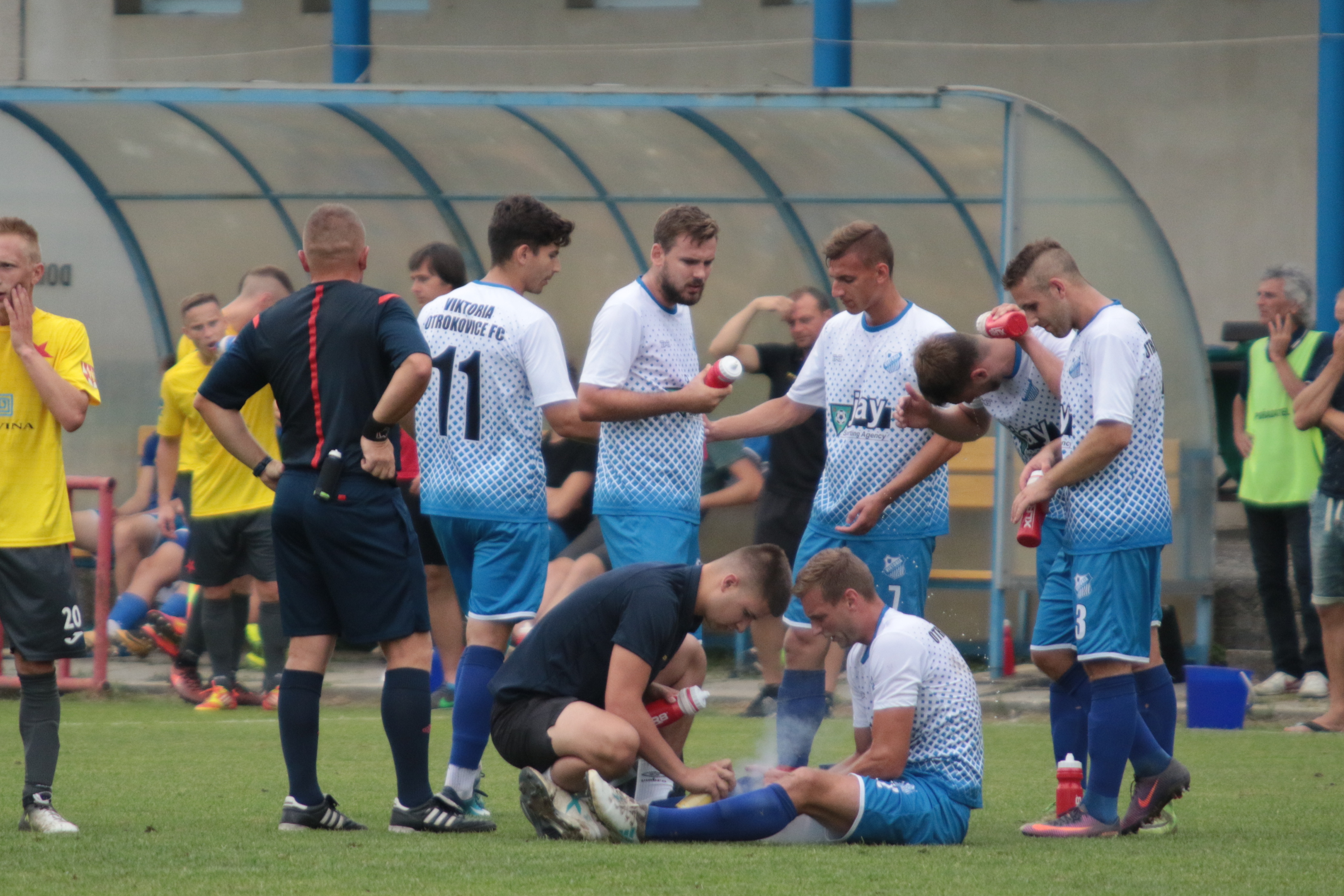 "Nejčastěji ke mně chodil Bahy", vzpomíná s úsměvem končící masér Petr Miklík
Masér Petr Miklík končí po 2,5 letech, nyní dává přednost studiu na vysoké škole. V 18ti letech absolvoval půlroční masérský kurz, který po úspěšném ukončení hned zužitkoval. Tehdejší trenér FCVO Marek Sedlák ho oslovil a Peťa tak dostal šanci na Viktorce. Co všechno zažil a jak vzpomíná na působení?
Jak dlouho jsi působil na Viktorce?
Na Viktorce jsem působil 2 a půl roku, ale teď musím upřednostnit vysokou školu, která je pro mě teď na prvním místě a bohužel by se to s Otrokovicemi stíhat nedalo. Zkoušel jsem to ještě teď na podzim, kdy se mi nechtělo odcházet z "rozjeté" sezóny, ale na jaro už bych to nezvládal.
Na které krásné momenty budeš rád vzpomínat?
Krásných momentů je mnoho, na které budu vzpomínat, určitě byl super pocit vždy když jsme se v MSFL zachránili, ale když jsme tento podzim hráli o přední příčky tabulky, tak to bylo také velmi příjemné. Určitě bych nechtěl zapomenout na zimní soustředění na Kypru, které bylo pro nás velkým zážitkem a zkušeností.
Jsou i nějaké špatné?
Možná jen nějaká vážná zranění hráčů, ale to bohužel k fotbalu patří. Jinak špatné určitě né, protože jak pod trenérem Sedlákem tak pod trenérem Hubníkem se mi pracovalo velmi dobře.
Co bylo tvým úkolem, kromě masírování?
Před každým tréninkem je potřeba se postarat o zdraví hráčů, takže tejpování a nějaká ta masáž to je samozřejmost, a pak po tréninku jdou kluci většinou do vířivky nebo sauny a potom ke mně na masérský stůl. Dále je potřeba zajistit klukům pitný režim a před zápasem nachystat ovoce a čokoládu samozřejmě Milku☺.
Koho jsi mel nejčastěji na stole, kdo nejvíc nadával a kdo byl největší bolístka?
Nejčastěji ke mně chodil Bahy a to i přesto, že patří k těm mladým hráčům. Ale i ti "staří" už si na to nějak zvykli a poslední dobou celkem Kaizy, protože měl hodně zdravotních problémů. Co se týče největšího rýpala a provokatéra tak je to určitě Matěj Fiala, který všem dělá všelijaké "Kanadské žertíky", ale samozřejmě to k tomu patří a už si na to všichni zvykli.
Pamatuješ si nějaké větší ošetření během tvého působení?
Pár jích bylo a vždy to je velmi nepříjemné. Vzpomínám si na jeden přátelský zápas, kdy Tomáš Zábojník měl rozbitou hlavu a otřes mozku.
Jaké bylo soustředění minulou zimní přípravu?
Jak už jsem zmiňoval zimní soustředění na Kypru bylo fantastické a všichni jsme si ho moc užili. Hlavně pro kluky to byla super zkušenost, protože si zahráli proti profi týmům a nabrali super fyzickou kondici, ze které pak těžili celou jarní sezónu.